How you can help
Events
Great Ethiopian Run in Ireland 2019
17th November 2019 - Ireland
Every year a group of our supporters travel to Ethiopia to take part in the Great Ethiopian Run. This year we are looking for people like you to run the 10k in Ireland. We want to connect two cultures at the same time.
On Sunday 17th November 2019 in Ireland we want you to walk, jog or run 10k in different parts of the country. It doesn't matter where or how, that's on your own terms!
You can run in the gym on a treadmill, in the park in your do a walk through the mountains or any other amazing locations you have in mind.
If you would like to take the challenge will ask you to raise a minimum of €100. Your fundraising will support our local partners in Ethiopia, ranging from maternal health, women's welfare, access to education and supporting people with disabilities.
If you want to take part, you can fill out the form or contact Samantha at samantha@ethiopiaid.ie or on (0) 1 677 5188.
Sign up today and help us to create lasting and positive change in Ethiopia.
Great Ethiopian Run 2019
17th November 2019 - Addis Ababa. Ethiopia.
In the video: Angela Savage - Participant Great Ethiopian Run 2017
With over 40,000 participants from around the world and at 2,500m above sea level, the Great Ethiopian Run is an annual 10- road running event which takes place on Sunday 17th November 2019 in Addis Ababa.
The run through the streets of Addis Ababa is like no other. You can walk, run or jog (and of course sing and dance!), it really is an achievable challenge for everyone and an experience that you'll never forget.
While in Ethiopia you will also have the opportunity to visit our partners and see first-hand the difference you help us make and to experience Ethiopia, its vibrant culture and its exquisite cuisine.
The next trip will take place in November 2019 and requires you to commit to fundraising €3,000 (inclusive of flights and an upfront deposit of €300). If you would like more information, please contact Nicola McQuilkin via email at Nicola@ethiopiaid.ie or on 01 677 5188.
Fundraise for us
If you would like to help make a difference to the lives of people in Ethiopia, but don't feel you can make a financial commitment, why not fundraise for us instead! There are lots of exciting ways to raise money, keep on reading for some ideas to get you going.
Challenge Yourself!
If you're feeling adventurous, why not challenge yourself by doing a sponsored skydive or marathon?
Organise an Event
Are you a talented cook? Or perhaps a quizmaster? Use your skills to organise fundraising events to help the poorest people in Ethiopia.
Get Friends to Sponsor You
Fundraising can even fit around your everyday life. You could get your friends to sponsor you to do any number of things such as growing a moustache, walking to work or not speaking for a day!
Birthday and Special Day Donations
By donating money from a Wedding or Birthday, you are helping to spread your happiness across the world, right to the slums of Addis Ababa.
At Work and School
Does your office or school have a chosen charity to support each year? Tell them about us and you can help a whole new set of people raise funds for Ethiopia.
If you would like to discuss your ideas with us, order leaflets, or if you would like more information about our work, please do not hesitate to call us on 01 677 5188.
Thank you, and have fun!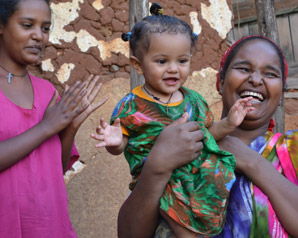 Leave a gift in your will
'The people of Ethiopia are dynamic and engaging enough to create change for themselves, if given the chance. Your legacy could be that chance.'
Sir Alec Reed, Founder of Ethiopiaid

If we are to build on the amazing legacy we have already created together, we have to prepare and plan for the future. We have to put in place now the structures that are necessary to deliver permanent change to the lives of some of the poorest people in the world.

Why leave a legacy to Ethiopiaid?

By including Ethiopiaid in your Will, you are ensuring that your legacy will have an impact for generations to come.

Enduring poverty and the country's desperately inadequate healthcare system, along with limited access to schooling and education all present major obstacles in Ethiopia's pursuit of lasting and positive change. Yet you can help to change the future for Ethiopia, with a simple gift in your Will.

Where to start?

When making a Will, we encourage you to share this important decision with your family and friends. We highly recommend that you seek qualified legal advice to draw up your Will and ensure that it best reflects your wishes for your family and others. Below are some steps to help guide you through the process.

1. Arrange an appointment with a solicitor.

2. Find out the probable value of your estate. Your estate is the sum of all your assets, everything you own, excluding any outstanding payments you have to make (like mortgage payments). To place a value on your estate you will need to account for all your assets and savings minus your debts.

3. Appoint your executors. Executors have the responsibility of administering your estate and of making sure that your wishes are carried out. Executors may include family members, friends or professionals.

Types of legacy

Residuary Legacy: this is the simplest and most flexible way to leave a legacy. This consists of leaving the remainder (residue) of your estate to Ethiopiaid once your family and friends have been provided for and any taxes and charges are settled. As residuary legacies are expressed as a percentage this type of gift benefits from being inflation-proof.

Pecuniary Legacy: this means leaving a fixed or specific sum of money from your estate to Ethiopiaid.

Specific Legacy: this is an item you leave, such as a house, a piece of jewellery, a painting or shares to Ethiopiaid.

Already have a Will?

Adding Ethiopiaid to an existing Will is easy. You only need to ask your solicitor to add a Codicil to your Will –a Codicil is a legally binding document that details the amendments to your Will.

Suggested Will wording

Residuary Legacy:

"I give the residue of my estate / ... % of the residue of my estate, free of all duties, deductions and claims payable in respect of my estate to ETHIOPIAID of The Boat House, Bishop Street, Dublin 8, Co. Dublin, Ireland for their general charitable purposes absolutely, and I declare that the receipt of ETHIOPIAID CEO, Treasurer or other authorised officer for the time being, shall be an absolute discharge of this gift for my Executors."

Pecuniary/Specific Legacy:

"I give a specific item or property / the sum of €…. to ETHIOPIAID of The Boat House, Bishop Street, Dublin 8, Co. Dublin, Ireland for their general charitable purposes absolutely, and I declare that the receipt of ETHIOPIAID CEO, Treasurer or other authorised officer for the time being, shall be an absolute discharge of this gift for my Executors."

Fu

rther Information

For further information, please do not hesitate to contact us at hello@ethiopiaid.ie or on 01 677 5188.
Give as you earn
Donations are taken from an employees' salary pre-tax every month, making 'Give as you earn' a tax efficient option, and giving Ethiopiaid a regular, pre-planned income, which helps us to identify how much we can allocate towards specific projects.
Why 'Give as you earn'?
Donations are tax-free
A time-savvy charitable giving option for busy employees
Easy for employers to set up
A fantastic way to bring internal teams together through charitable giving
Allows us to anticipate regular donations, helping us to allocate funds to specific projects
Companies
Building a relationship with Ethiopiaid is a way to let your staff and customers know that you care about those affected by poverty. It shows that your company takes its social responsibility seriously and can enhance your reputation with your key audiences.
Partnering with Ethiopiaid can put your company in a unique position. We are a small organisation and have a direct and close relationship with our Ethiopian partners. As such the possibility to become a key supporter of life-changing projects in Ethiopia and the commensurate good will this can generate amongst your staff and customers can add huge value to your organisation.
Gifts can be either one-off contributions or you can decide to fund our work over a number of years, giving you the opportunity to see the impact of your companies support on the lives of those benefiting from our work. There is also the opportunity to support an Ethiopiaid event here in Ireland and help us to promote the work of our partners and gather new support for our work.
For more information contact Nicola@ethiopiaid.ie